Improving the Green Shortcut: Norway's biggest road project so far

Riksvei 3 is one of Norway's biggest national roads. Spanning 291 kilometres, it is the main connection for passenger car traffic between Oslo in the south and Trøndheim in the north. It is also a crucial road for much of the country's freight transport. An important part of the road is now being improved.
Surrounded by tranquil landscapes and a dazzling amount of woodland, Riksvei 3 is also called Den Grønne Snarvei, the Green Shortcut. This name was coined by the county municipality of Hedmark – which is exactly where this story takes place.
Faster and safer
Between Løten and Elverum, about 100 kilometers north of Oslo, 27 kilometres of new road has been constructed: the Riksvei 3/25. This will form an important new part of the Riksvei 3, with the aim being to provide a faster and safer connection. A project more than 10 years in the making, with the Norwegian Public Roads Administration has been working closely with local communities.
"The big idea was to establish a good road connection through Osterdalen between Oslo and Trøndheim," says Ketil Sand. He directs the project on behalf of Skanska, the company conducting this major operation. It's one of Norway's biggest road projects so far.
Because of its size, the main challenge are the earthworks, Sand says. "Roughly four million cubic metres of soil and cut-out rock is to be hauled, stockpiled or disposed."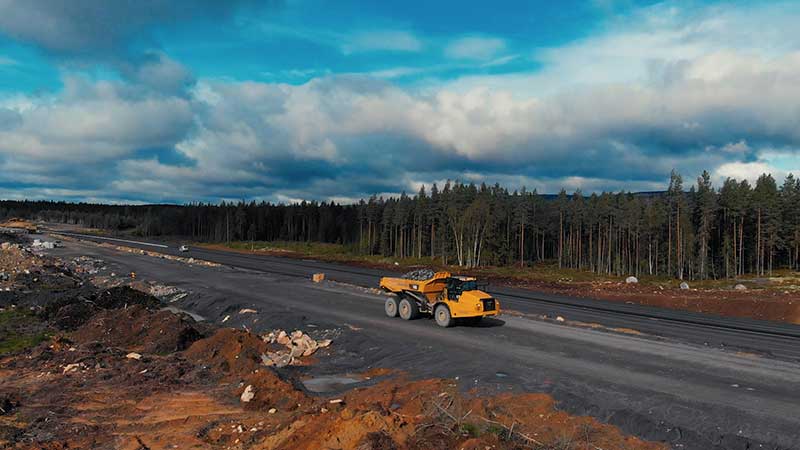 "Thanks to mass transport optimizations, we required fewer trips and also less mass."
Karoline Celius, Skanska
Reducing cost and sparing the environment
Skanska designed the road in consultation with local residents. That way, they were able to leave the best pieces of land to them, enabling farmers to continue their work. "We made sure we left the best land to them, as farming is an important industry in this municipality," says Karoline Celius, consultant at Skanska. "This is so that the damage, while invasive, is as minimal as possible for the community."
"We decided, early in the bidding stage, to go for a CEEQUAL certification," says Celius, emphasizing the company's sustainable approach. "We have spent resources optimizing asphalt, investing in low carbon concrete, and optimizing mass transport so that we required fewer trips and also less mass."
That's where the team benefited from software. "By using Topcon's project software we managed to optimize all of that, considerably reducing the cost and the amount of mass we needed to move," says Celius's colleague Tom-Arne Gullord, production engineer. "That way, we saved money and spared the environment."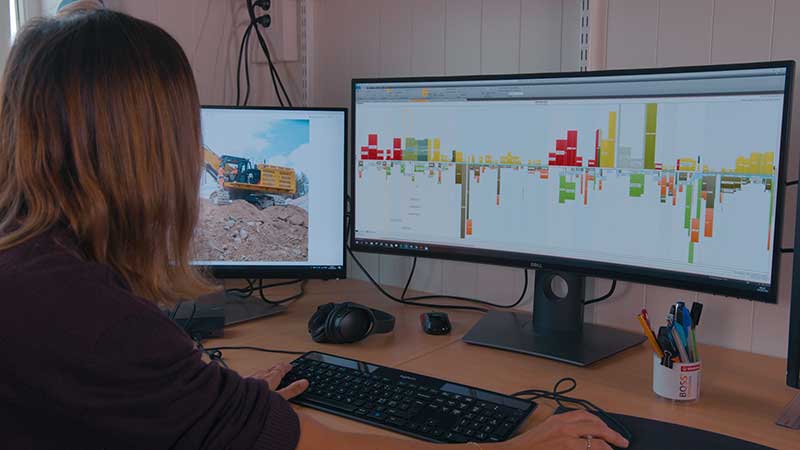 "After making calculations with MAGNET, we managed to get the best mass balance possible."
Tom-Arne Gullord, production engineer at Skanska
Ahead of schedule
Ketil Sand tells us he has worked with Topcon on bidding portfolios before. "This time we got Topcon involved quite early on. The key to success isn't just the software, but having access to people who are skilled in using that software. The harmony between software, key people, and our own staff worked well."
By using MAGNET in the bidding phase, the estimated budget was decreased by more than 20%. How did they do it? "We conducted a mass balance in MAGNET to figure out where we have a surplus and where we have a deficiency in the road alignment, and so how to best balance the mass," says Tom-Arne Gullord.
"That was the most important thing at the start. We especially needed to figure out transport distances along the road. MAGNET is well-suited to such calculations. This way we could adjust the alignment and get the best mass balance possible."
Construction on the road began in 2018 and was originally due for completion in late 2020. However, the use of Topcon technology has resulted in the project being three months ahead of schedule. Arne Meland on behalf of the Norwegian Public Roads Administration concluded: "Because of the project's progress, we're ahead of schedule and we can now open the road sooner, but traffic safety still remains the highest priority for us."