Topcon Way

We contribute to the creation of a richer and more sustainable society through healthcare,agriculture,
and infrastructure which are the foundation of human life.


Topcon contributes to enrich human life by solving the societal challenges within healthcare, agriculture and infrastructure.


Topcon focuses on leading-edge technology to provide new value through innovation and manufacturing.

Topcon respects diversity and acts as a global company.

Topcon places the utmost priority on compliance and continues to be a trustworthy partner to all stakeholders.
What we do
Helping solve the societal challenges in healthcare, agriculture, and infrastructure through DX solutions
Upholding the management philosophy of "contributing to enrichment of human life by solving the societal challenges within healthcare, agriculture, and infrastructure," we use DX* solutions that make full use of IT and network technology based on the company's core technologies of precision optics, satellite positioning, 3D measurement, and sensing/control.
In healthcare, we address the increase in eye disease resulting from global population aging by enhancing eye screening for early detection of diseases and improving medical efficiency.
In agriculture, we address food shortages resulting from global population growth by enhancing the automation of farm operations to improve productivity and quality.
In infrastructure, we address the shortage of skilled engineers and globally rising infrastructure demands by enhancing the automation of construction process to improve productivity and quality.
*Note: The term "digital transformation (DX)" refers to a situation where a company takes advantage of data and digital technologies to deal with dramatic changes in business environments, change its products, services and business models to meet the demands of customers and society and change its business itself, organizations, processes, corporate culture and corporate climate, so that it can establish a competitive advantage.
Healthcare

Healthcare
Helping people live a healthy, comfortable life
Due to aging and lifestyle changes, more people are suffering from ocular disorders. Since 1947, Topcon has developed patient and doctor friendly ophthalmic medical instruments. In recent years, we have worked on early detection and early treatment of ocular disorders by establishing a system for eye health screening and utilizing high-end inspection/diagnostic instruments and healthcare network solutions.
Eyes are the windows of the body – they are connected to many other systems in the human body and it is said that humans obtain 80% of information from their eyes. By improving eye exams and eye health we can help improve and even save lives.
Global Aging Population

Societal Issue

Increasing Eye Diseases

Societal Issue

A Healthy and Comfortable life

Future
Agriculture

Agriculture
Helping feed a growing world
Due to rising population and climate changes, a global food shortage is an increasing concern. And many countries are finding themselves with fewer and fewer farmers and agricultural workers.
Since 2006, we have used advanced sensor technology to enable the automation of agriculture machines. We help maximize yield and stabilize quality of crops using growth sensors and applying spectroscopic technology.
Our technology increases accuracy and reduces labor through all phases of the agricultural cycle – from planting to harvest – through connectivity and data organization.
We are helping farmers worldwide put more food on peoples table, while protecting the environment and precious natural resources.
Global Population Increase

Societal Issue

Food Shortages

Societal Issue

Worldwide put more Food on Peoples Table

Future
Infrastructure

Infrastructure
Helping build a strong, sustainable future
With increasing population density compounded by urban growth and modernization in developing regions, the need for new infrastructure grows exponentially. And the global constructions workforce is shrinking, forcing the need to get more done with less. Since 1994, we have introduced industry-changing products that improve accuracy, efficiency, and productivity.
Through cutting-edge machine control systems, sensors, and surveying technology combined with 3D data and connectivity solutions increase productivity and profitability, while reducing labor.
We are helping lay the foundation for building a better world.
Global Demands of Infrastructure

Societal Issue

Shortage of Engineers

Societal Issue

Foundation for Building a Better World.

Future
History
Always manufacturing with
an entrepreneurial spirit
In September 1932, Tokyo Kogaku Kikai Kabushikikaisha (Tokyo Optical Co., Ltd.) was established with the aim of domestically producing surveying instruments upon request from the Army Ministry, based on the surveying instruments division of K. Hattori & Co., Ltd.
The company entered into the field of Ophthalmic equipment in 1947. Having developed a single-lens reflex camera utilizing the world's first TTL full-aperture metering method in 1963, as well as advanced surveying instruments and optometers in the late 1970s, it soon established a solid reputation as a comprehensive precision optical measurement equipment manufacturer.
In 1989, the company name was changed to the current brand name, Topcon Corporation. Since the 1990s, Topcon has opened new business areas such as construction machine control technology, high-precision GPS, and high-precision agriculture through overseas M&A and business expansion.
In the growth areas of healthcare, agriculture, and infrastructure, Topcon offers state-of-the-art solutions utilized by people across the globe and is helping to solve societal challenges.
Topcon's History by Keyword* Click on the illustration to view details.
Technology
always one step ahead
Topcon has been introducing game-changing products in the field of surveying and ophthalmic instruments based on the optical technology it has cultivated since its foundation. In addition, the company was among the first to focus on overseas markets, and advanced the integration of various technologies through M&As and alliances. Topcon is known as a global leader in technology by offering cutting-edge and propietory products such as automation of construction process, automation of farm operations, and eye screening. In order to achieve its mission to solve societal challenges in healthcare, agriculture and infrastructure, the company will continue to push the envelope and develop disruptive technology.
Sensor

Healthcare

Sensor

Topcon has developed the 3D OCT (Optical Coherence Tomography) as a culmination of its fundus measurement technology fostered over the years. Combined with its image processing technology, a refined 3D structure visualization of the fundus is now possible. With the goal of "Healthcare Through the Eye," this technology is being applied to the detection of disorders from the eyes to the entire body, as well as integrating with the latest AI technology for the monitoring of eye disorder progression.

Automation

Healthcare

Automation

We automate the cumbersome process of fundus photography by implementing full-auto measurement loaded with auto-alignment, auto-focus and auto-shooting functions. It captures the movement of the eyes when photographing the fundus and tracks the movement of the eyeballs, enabling simple but highly accurate fundus photography that does not require expert skills.

Sensor

Agriculture

Sensor

We have enabled stable measurement insusceptible to the environment by developing growth sensors that measure the growth level of crops remotely using laser spectroscopic technology. This is a fundamental technology in IT agriculture that holds the promises of increased yield and stabilized quality by generating growth maps using GNSS (Global Navigation Satellite System).

Automation

Agriculture

Automation

We provide highly accurate automatic steering that matches the farm field by loading GNSS receiver, electric steering handles, and consoles onto agricultural machinery. Quality and yield stabilization can be achieved while improving work efficiency by combining growth sensors and automatic fertilization systems.

Sensor

Infrastructure

Sensor

Applying distance and angle measurement technologies developed over the years, Topcon has enabled 3D position measurement that provides millimeter accuracy. In addition, by combining GNSS (Global Navigation Satellite System) measurement technologies and 3D image measurement (photogrammetry), Topcon technology can be used widely not only in measurement but also in civil engineering and IT agriculture.

Automation

Infrastructure

Automation

Using 3D position measurement technology and inertial measurement units (IMU), the blade and bucket edges of construction machines can be measured in real-time and with a high degree of accuracy. By combining hydraulic control technologies and measurement data, automated construction work can be done faster, more accurately, and with less rework.

Sensor to AI

Sensor to AI

Topcon is developing "Sensor to AI" technology that loads high-end sensors and AI as one. Using high-end sensors that utilize optical technology, Topcon enables stable and highly accurate data collection. Topcon is unique in being able to develop sensors and AI as one unit.
Global
Global Business Deployment
The Topcon Group which extends to 30 countries and regions worldwide is a truly global company that develops, produces and sells all over the globe.
Proportion of overseas sales is 80%, and 70% of the employees are non-Japanese.
We understand the needs of our clients and offers solutions by utilizing the knowledge, wisdom, and technology of our workforce around the world.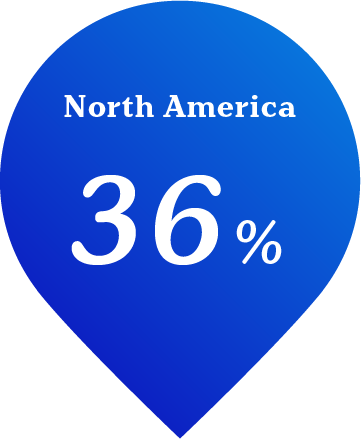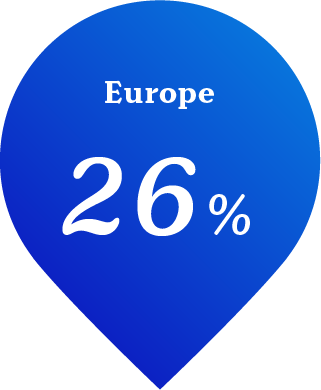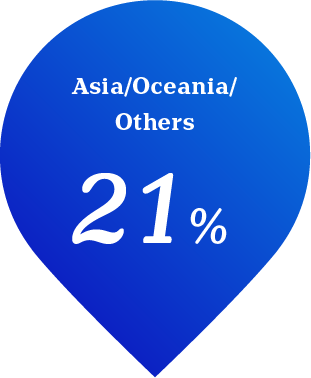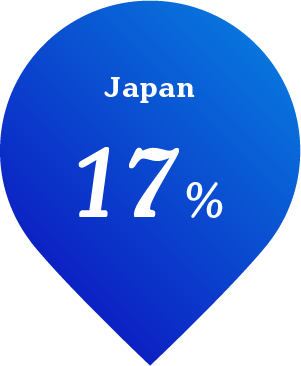 Contributing to better life
through leading-edge technology