Societal challenges in healthcare, agriculture, and infrastructure through DX solutions
Role of DX in our Management Vision
Topcon's business domains of healthcare, agriculture, and infrastructure each face societal challenges.Despite the fact that each of these is a major industry, they are behind in conversion to IT and automation.
In our mid-term business plan, we have included initiatives for solving these societal challenges through DX solutions, using IoT and network technologies based on Topcon's proprietary technologies, including precision GNSS, 3D measurement, optics, and sensing and control technology, as well as its global organization.
Innovation in Healthcare, Agriculture, and Infrastructure through DX
Healthcare
Creating a system for eye disease Screening
As eye disease increases due to aging of the global population, the shortage of ophthalmologists has become a societal challenge.
Topcon is building a system that enables telemedicine and AI automatic diagnosis using full automatic screening equipment and ICT, which can be operated by non-ophthalmologists.
Topcon offers a DX solution focused on eye disease screening conducted by primary care physicians, optical shops, drugstores, and others.
This system assists in the early detection and treatment of eye disease.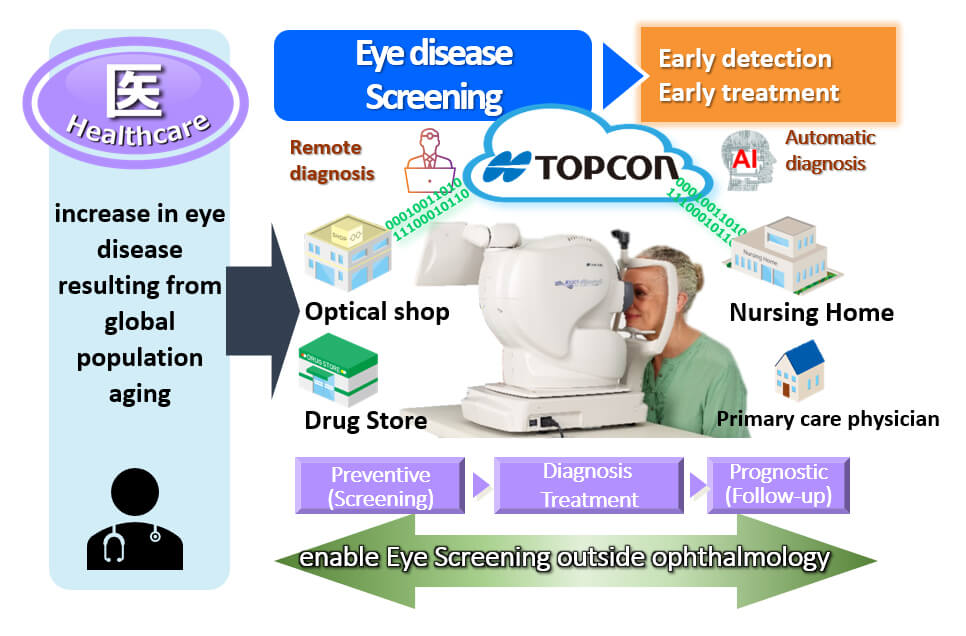 Agriculture
Centralized management of the agricultural cycle by "Automation of farm operations"
Concerns regarding food shortages due to growth in the global population have become a societal challenge.
While the farming process has relied on experience and intuition, Topcon's farming machinery uses auto steering systems and laser-type crop sensors to centrally manage the farming process as digital data, from planning to planting/seeding, growing, and harvest, thereby improving productivity and quality.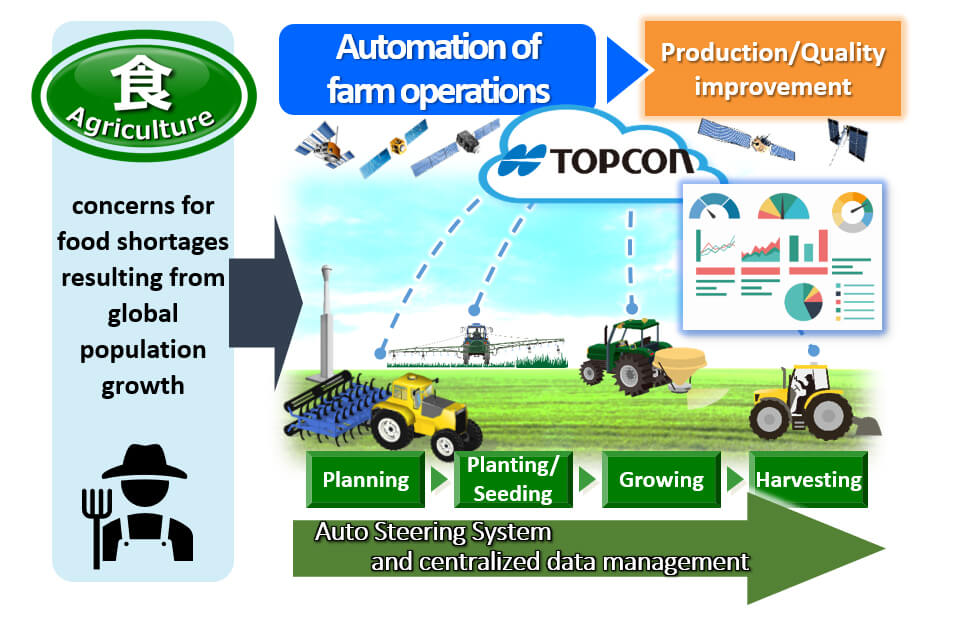 Infrastructure
Centralization of workflow by "Automation of Construction process"
As worldwide demand for infrastructure increases, the shortage of skilled engineers at construction sites has become a societal challenge.
Topcon develops IT Construction systems that use 3D measurement and sensing/control technologies to control construction machinery automatically.
These systems centrally manage the workflow of surveying, design, construction, and inspection as 3D digital data, and by integrating this data, improve the efficiency of the construction site workflow as a DX solution, thereby helping to solve labor shortages and improve productivity.