The Topcon Group had developed a global business network with overseas net sales accounting for over 80% of all Topcon sales.
With a constant eye on the market, Topcon applies its global development network and creative ideas towards developing world's No.1 and world's first products. This commitment enables Topcon to be the first to turn the latent needs of our customers from a concept to a reality.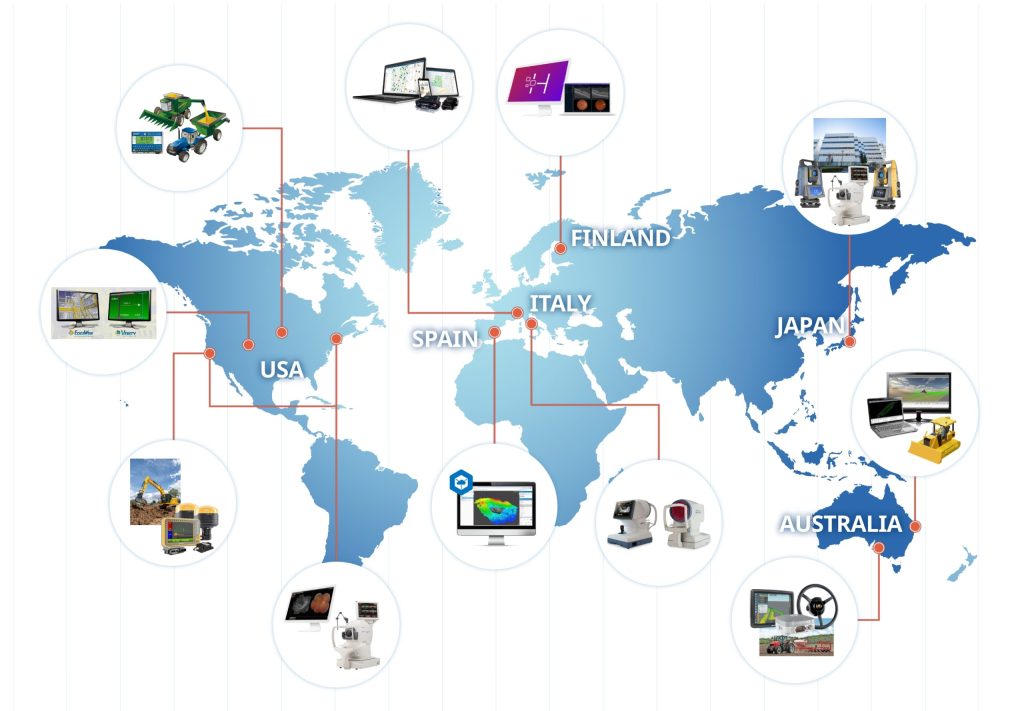 Topcon Corporation

Itabashi, Tokyo, Japan
Topcon conducts fundamental research and development in all our business segments.

Topcon Positioning Systems, Inc.

California, USA
Development of GNSS instruments, machine control systems, and supporting software solutions.

Topcon Medical Systems, Inc.

New Jersey, USA
TABIL (Topcon Advanced Biomedical Imaging Laboratory) develops the advanced ophthalmic devices technology.

Topcon Healthcare Solutions, Inc.

New Jersey, USA
Business planning, software development for the global marketplace in OCT technology and IT solutions.

ClearEdge3D, Inc.

Colorado, USA
Develops 3D modeling software.

Topcon Technology Center

Moscow, Russia
Development of GNSS receivers, antennas, radios, and software.

Topcon Technology Ltd.

Gloucestershire, UK
Development of agricultural solutions.

Topcon Agriculture Canada, Inc.

Saskatchewan, Canada
Development of ultrasonic sensing and boom control technology for agriculture.

Topcon Positioning Systems, Inc. Columbus Office

Ohio, USA
Development of software for surveying and mapping.

Topcon Healthcare Solutions EMEA Oy

Oulu, Finland
Development for eye cloud solutions.

Topcon Technology Finland Oy

Espoo, Finland
Development of Construction software products

Topcon Electronics GmbH & Co. KG

Geisenheim, Germany
Development of in-cabin mounted consoles for agricultural, construction and other off-highway equipment.

Tierra S.p.A.

Turin, Italy
Development of web-based remote asset management solutions.

GEOPRO S.r.l.

Ancona, Italy
Development of software for GNSS, GIS, monitoring and total station applications

VISIA Imaging S.r.l.

Tuscany, Italy
Development of ophthalmic medical devices and software

Topcon Mirage Technologies S.L.

Valencia, Spain
Development of 3D Mass Data Visualization Software

Topcon Precision Agriculture Pty Ltd.

South Australia, Australia
Development of precision agriculture.

Topcon Positioning Systems (Australia) Pty Ltd.

Queensland, Australia
Development of machine control software.