Topcon technologies supporting companies affected by earthquake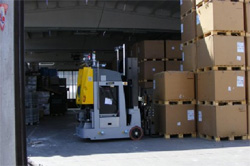 Topcon Positioning Systems (TPS), in conjunction with three other companies, has developed a remote control machine – an autonomous forklift – designed to enter buildings following earthquakes to determine damage, plus move obstacles and even goods for market up to 2,200 pounds (1,000 kg), for 
The forklift device is an electric autonomous vehicle with adjustable forks capable of reaching up to 20 feet in height. It is remotely controlled using cameras installed on all sides, and has redundant systems – electrical, cameras and control access – to ensure maximum performance in the most adverse circumstances.
TPS, through its Italian-based software company, Topcon Infomobility, provided the wireless network for point-to-point communications connections.
In designing and putting the forklift into operation, Topcon worked with three Italian companies, Elettric 80, which contributed a forklift vehicle and vehicle control system; VisLab, which contributed cameras and an image-managing system; and FABER-COM, which provided a multi-function radio remote control system.
Ivan Di Federico, TPS chief strategy officer and president and CEO of GEOTOP Topcon in Italy, said, "An earthquake can have devastating effects on the people, property and the environment. In any disaster there is a need to return to normal activities as soon as possible.
"That's extremely difficult when buildings are not safe and uncertainty is the norm. In any area hit by a quake, there are many companies," he said, "which have warehouses full of material that needs to be dispatched in order for the company to survive."
Equipped with LED lights on all sides and a total of seven cameras, "The innovative forklift is designed to explore inside buildings that could be unstable and remove commercial goods in order to restore a semblance of commerce more quickly than ever before thought possible," Di Federico said.
The machine is "not just designed to remove goods from a building, it is also the perfect instrument to check out buildings to determine if they are safe to enter and remove goods.
"It is important to a stricken country to get goods moving as quickly as possible," he said.
"With the cooperation between the contributing companies, this forklift can make a discernible difference in an area's economy after a major disaster."