WARNING NOTICE: Counterfeit versions of TOPCON's 360° prisms (ATP1 and ATP2S)
Thank you for your continued patronage of Topcon products.
We have detected that several counterfeit versions of TOPCON's 360° prisms (ATP1 and ATP2S) are being sold on several e-commerce and auction sites in Japan and overseas. The illegal versions are not designed or manufactured by TOPCON or our related companies of course, and the sites display TOPCON logos, our brand-names and trademarks without any permission from us. In addition, appearances of the versions being sold and auctioned in their sites at first glance resemble quite similar to our genuine products.
We have purchased several samples of the illegal versions to check with TOPCON's professional quality assurance team, and then find that the counterfeit versions do not just meet our quality and performance standards but also the quality level in general. The use of the counterfeit products must cause you to harm or destroy accuracy and preciseness for your measurement works, and in the worst case scenario, may lead serious damage or troubles to your customers' business. We therefore strongly recommend you to use TOPCON's genuine prisms with our surveying instruments.
Topcon is afraid tell this, but we cannot be responsible for any damage caused by the use of the illegal versions, so please be careful to see whether your buying product is a genuine one or not.
Topcon has been taking actions to eliminate the counterfeit products from the market in order to make sure that you could use TOPCON products without any worries. We really hope that you keep using Topcon products now and in the future.
Comparison of ATP1 Genuine and Counterfeit products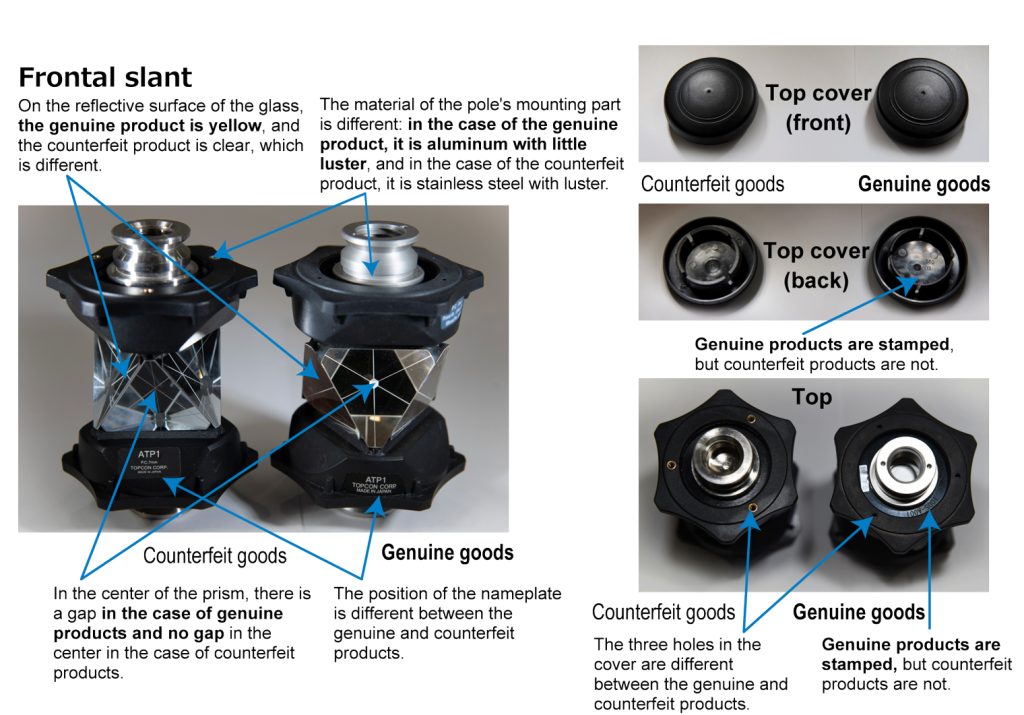 Comparison of ATP2S Genuine and Counterfeit products