New Factory to Serve as Global Backbone
Launch of Surveying Instrument Production in Yamagata
Topcon Corporation (headquarters: Itabashi, Tokyo, President & CEO: Satoshi Hirano) opened a new factory on the grounds of Topcon Yamagata, its wholly-owned subsidiary. This new factory will serve as a manufacturing base for surveying instrument, Topcon's mainstay product line.

Thus far, Topcon Yamagata has manufactured optical instrument such as Topcon's medical devices for eye care. The newly added manufacturing wing, which will boast a scale on par with our former main factory and feature the latest in manufacturing equipment, will mainly produce the Total Station*1. In particular, the Robotic Total Station*2, which features a motor drive mechanism, boasts a strong share in the global market offering the world's smallest and lightest platform and the world's fastest high-speed rotation performance.
Used in harsh environments such as at construction sites, a high level of quality and reliability is required of the high-precision Total Station.
By concentrating the manufacturing of advanced surveying instrument featuring precision optical engineering technology together with the existing manufacturing of precision medical devices, Topcon will further distinguish itself for its Made in Japan manufacturing and commitment to high-quality products. Topcon Yamagata will serve as a core factory that supports our global business expansion.

We will continue to provide high-quality products as we strive to meet the growing social infrastructure needs of global markets.

*1: Device capable of high-precision surveying of distances and angles. Boasts angle resolution of 1" (1/1 296 000 ) and distance measurement precision of several mm with a measurement range of several kilometers.
*2: Adding a motor to the angle measurement mechanism enables efficient surveying by a single worker.

[New factory summary]
| | |
| --- | --- |
| Purpose | Manufacturing of surveying instrument (Total Station, etc.) |
| Location | 547 Aza-Ishida, Oaza-Urushiyama, Yamagata-shi, Yamagata |
| Scale | 3,000㎡ floor surface area (single-story) |
| Production launch | July 2017 |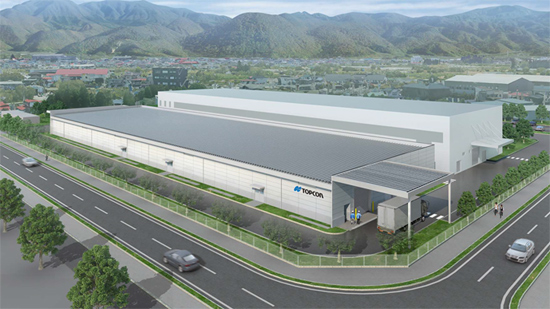 [TOPCON YAMAGATA CO., LTD.]
| | |
| --- | --- |
| Representative | Masami Tsukada, President of Topcon Yamagata Co., Ltd. |
| Address | 547, Aza-Ishida, Oaza-Urushiyama, Yamagata-shi, Yamagata 990-2196, Japan |
| Established | December 28, 1946 |
| Net Sales | 11,242 million yen |
| No. of Employees | 261 |