New Auto Kerato-Refractometer KR-800PA
Enhanced Auto Kerato-Refractometer with Corneal Mapping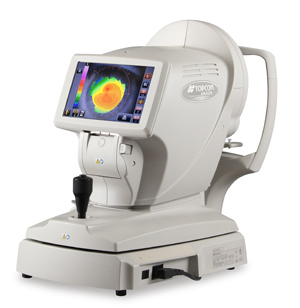 In December 2017, Topcon Corporation (Topcon) launches the new auto kerato-refractometer, KR-800PA.
We are pleased to announce the launch of the new kerato-refractometer with corneal mapping function, KR-800PA.
KR-800PA enhances efficiency in a practice, providing the corneal power map with refraction measurement data by one press of button, which supports diagnosis for irregular astigmatism.
The 3D Auto Alignment function and a wide 8.5 inch touch screen offer speedy operation.
【Features】
One press of control lever button provides refraction measurement, central and peripheral kerato values and corneal mapping.
Topcon's rotary prism system offers speedy and reliable measurement.
3D Auto Alignment function allows quicker and easier measurement.
8.5 inch wide touch panel screen increases ease of operation and understanding of measurement data.
Compact body contributes small space in the practice.

*Note*
Not available in all countries, please check with your distributor for availability in your country.