Topcon's new laser scanner is affordable, perfect for field use
A total scanning solution that handles like a total station. That's what the new GLS-1000 from Topcon delivers.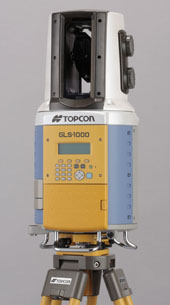 The GLS-1000 scanner offers surveyors and civil engineers an affordable, user-friendly instrument that operates as a stand-alone unit without external computers, cables or heavy batteries. With its internal memory and batteries and bright display screen, the GLS-1000 can operate in harsh weather conditions or direct sunlight. It is a lightweight instrument easy to transport from one job site to another
"Collecting point cloud data in any environment is easy with the Topcon GLS-1000," Scott Langbein, Topcon software and imaging manager, said. "It comes in a single case and is easy to transport and easy to use. Scanning an area with the controls is simple; data is stored in an accessible SD card, just like on a total station."
If required, he said, "you can transfer and check data on a PC while in the field or in the office."
Topcon developed Precise Scan Technology for the GLS-1000. The new technology not only uses "time of flight" measurement but also combines the innovative phase-based
analysis technology, which results in unparalleled stable and precision accuracy measurement. The technological innovation also allows measurement over a wide area (up to 150 meters).

Topcon utilized Voxis technology in development of the GLS-1000. Topcon recently purchased Voxis, Inc. Recognized as an innovator in the design of precision high resolution motion systems, Voxis, with headquarters in Point Richmond, California, was founded in 2003.

Voxis is now a wholly owned subsidiary of Topcon.

The GLS-1000 features include:

Create 3D models from point clouds;
Image integration with built-in digital camera'
Connectivity with application software;
Control panel for simple onboard scanning control and data storage; and,
Simple and quick registration.