TOPCON Announces the Global Introduction of IMAGEnet® Connect
Topcon Corporation(Headquarters: Itabashi, Tokyo; President and CEO: Satoshi Hirano)has officially announced the worldwide release** of IMAGEnet Connect, a vendor neutral ophthalmic workflow, image and data management system that seamlessly connects eye care devices and systems used in clinics for streamlined data management.
As the ageing population continues to grow, providing efficient and economical medical care is paramount. Topcon's "Healthcare through the Eye" initiative supports this objective by targeting prognostic management and early detection of disease.
To achieve this goal, it is necessary to create a medical network which interfaces with a variety of devices to collect and record data from multiple clinical sites.
ifa systems AG (ifa) has been a leading European company in ophthalmological electronic medical record systems for more than 20 years. With its acquisition of ifa, Topcon has obtained the platform to accelerate the development of effective IT solutions which can centrally collect and manage the data across the eye care workflow from screening, examination, diagnosis, treatment to prognosis management. Topcon's first such commercially available solution, IMAGEnet Connect, is the combination of Topcon's superior hardware technology and ifa's advanced software technology. More conventional eye care data filing systems are commonly referred to as PACS*1 systems and IMAGEnet Connect can certainly play a role as PACS system. However, IMAGEnet Connect goes well beyond traditional PACS functionality, with vendor neutral archiving and extensive workflow management capabilities.

IMAGEnet Connect, the vendor neutral ophthalmic workflow, image and data management system, provides "efficiency in eye care" with significantly more functionality as below mentioned specifically than a conventional PACS system.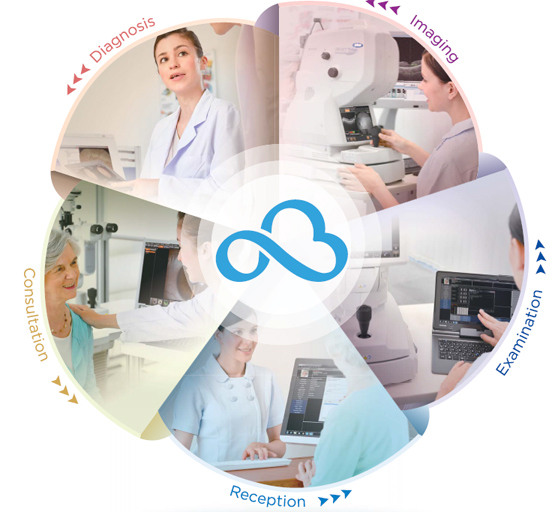 Vendor neutral archive which is compatible with more than 450 devices.
Allows clinicians to view all clinical information on a single program.
Provides efficient workflow management.
Intelligent patient flow tracks progress from check-in to check-out.
Provided statistics optimize the practice workflow and minimize patient waiting time.
Integrated test interpretations, clinical remarks, diagnosis and treatment plans.
Intuitive data input with structured data for diagnosis, compliant to ICD-10*2, SNOMED*3 and LOINC*4.
Worldwide sales channels and service network.
There is a significant unmet need amongst eye care clinics that do not require a full function EMR, but require connectivity to existing information systems. IMAGEnet Connect fulfills this need by providing connection to HIS/PMS*5, enhancing clinical and operational efficiency.
"Topcon has been developing solutions that help all eye care professionals to improve their workflow and to assist in clinical decision-making to provide treatment for their patients and customers more effectively," said Takashi Eto, Senior Management Executive Officer and General Manager of Sales department. "With the introduction of IMAGEnet Connect, we are enabling our customers to collect and manage the clinical data as simply and efficiently as possible."
IMAGEnet Connect has already been presented at several exhibitions in Europe, Asia and in the US.

**IMAGEnet Connect is not available for sale in all countries. Please ask your dealers or ask TOPCON about the availability in your area.
*1 PACS = Picture Archiving and Communication System. A medical imaging technology which provides economical storage and convenient access to images from multiple modalities (source machine types)
*2 ICD-10 = International Statistical Classification of Diseases and Related Health Problems (ICD) 10th revision. A medical classification code supplied by WHO.
*3 SNOMED = Systematized Nomenclature of Medicine (SNOMED). Started in US. The systematic and processable collections of medical terms.
*4 LOINC = Logical Observation Identifiers Names and Codes. A database and universal standard for identifying medical laboratory observations.
*5 HIS/PMS : Hospital Information System / Practice Management System