Objectives and principles of IR Activity
We conduct IR activity to create a deeper understanding and to promote proper evaluation of our company value among our shareholders and investors. To that end, we are committed to acting and responding in good faith, and to disclosing information on management direction, business strategy, finances and future plans on a just, prompt, accurate, proactive and ongoing basis.
Content of disclosed information
In compliance with statutes and regulations, we disclose information required by decree. In addition to the periodic publication of our quarterly financial settlement information, we will actively disclose any information deemed useful in fostering understanding of our corporation among all other information required for disclosure.
Methods of disclosure
Information we publish will be provided to media and will be updated promptly on our IR website, "Investor Relations." Furthermore, the disclosure of information required by rules for timely disclosure will be disclosed on timely disclosure systems (TD-NET) and will be provided to the media as well as being updated promptly on our IR website "Investor Relations."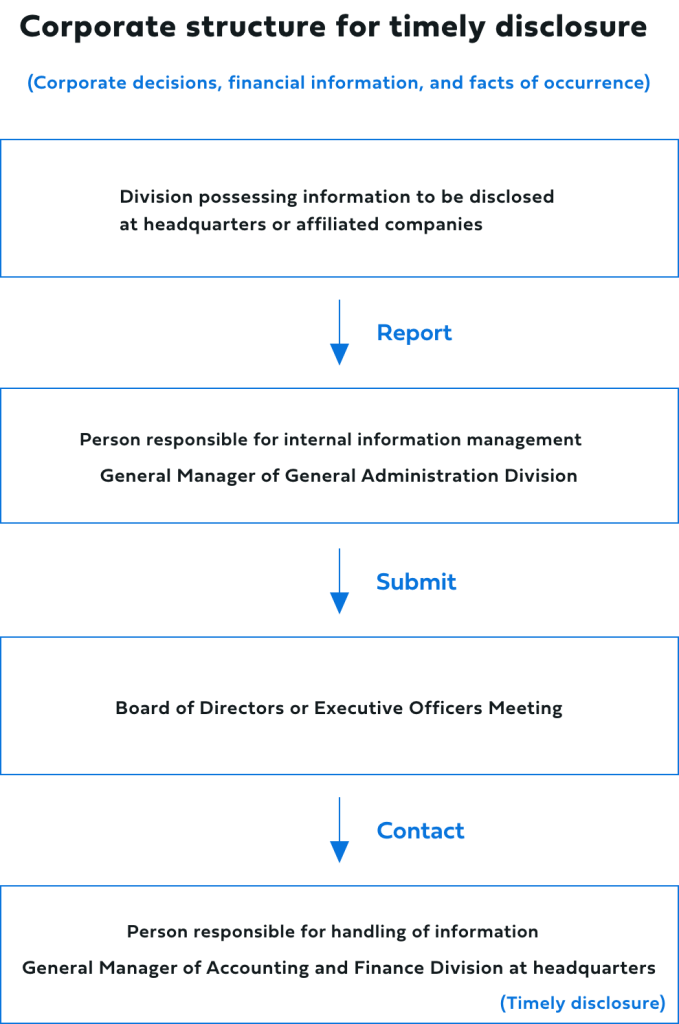 Items related to performance forecast and future outlook
Information we announce regarding performance forecasts and future outlook are based on the predictions of our management staff drawn from information currently available. Actual performance may be affected by a number of factors, including trends in the world economy, product demand, or currency exchange rates and as a result may deviate widely from the listed forecasts. We therefore ask that any investment decision you make be based on your own discretion.
Quiet Period Designation
In order to prevent any leaks of corporate financial information for both quarterly and semi-annual earnings reports, we designate the four weeks prior to earnings announcement as a "quiet period," and will refrain from conducting any IR activity. During this timeframe, we will be unable to respond any queries or comments regarding financial earnings.