Handing out Christmas sweets: Topcon supports the independence of people with disabilities
Local residents enjoy the illuminations at Topcon headquarters during the Christmas season. We have been holding events with thousands of LED lights every year since 2006, as part of enlightenment activities for environmental conservation such as prevention of global warming. Last year's 2020 Christmas illumination attracted more visitors than usual for two special reasons.
First, the color of the illuminations was special. The lights were made with warm pink and champagne gold to express gratitude to the medical staff so that people could feel a little more cheerful even under COVID-19.
Secondly, we handed out sweets to the children. The sweets were made at facilities by people with disabilities, and Topcon has decided to continue to support their activities.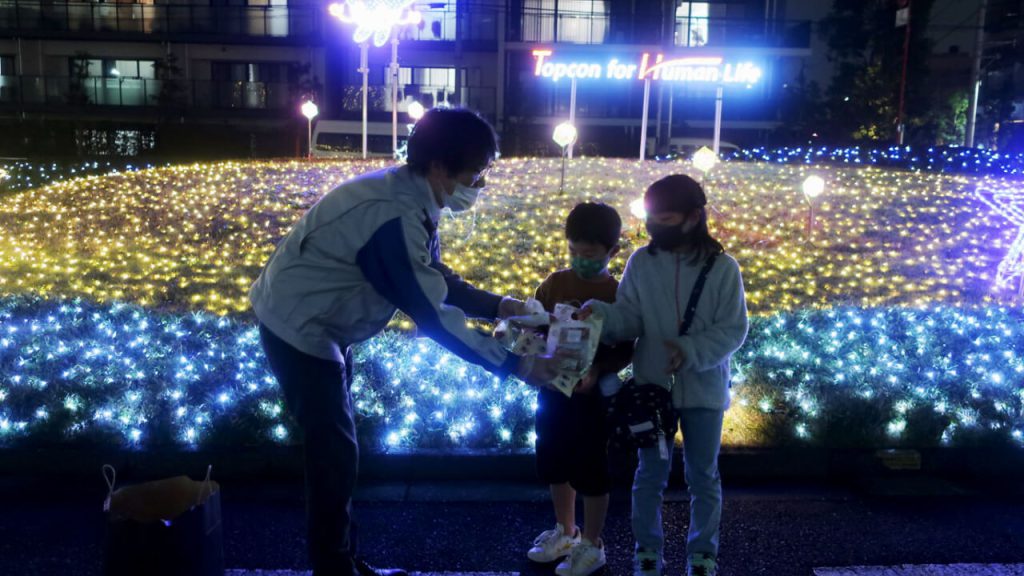 According to the Sweet Heart Project, who supports confectionery made at self-support facilities by people with disabilities, many facilities have relied on welfare events organized by the public and private sectors to sell them. However, most of the events were canceled due to COVID-19 pandemic. Furthermore, many companies have set a policy to prohibit entry by outsiders or have introduced teleworking. Consequently, the sales has decreased significantly.
In order to change the current situation, the Sweet Heart Project sought the opinions of experts in various fields and succeeded in jointly procuring materials and developing products. This has led to the enhancement of product quality and thus created a system to make confectioneries at many facilities. Supporting confectionery making at welfare facilities is not only an donation to welfare but also an activity to support their self-reliance. Users of the facility can take great pride in their jobs to make confectioneries.
In support of this philosophy by the Sweet Heart Project, Topcon will continue to work together to support people with disabilities including campaigns to support the activities of facilities for people with disabilities in Itabashi Ward.