Topcon acquires large European dealer GEOTOP
Topcon Europe Positioning (TEP) has acquired controlling interest in GEOTOP of Ancona, Italy, one of Europe's largest dealers in precise positioning surveying, civil engineering, construction and agriculture equipment.
GEOTOP, founded in 1972, became a Topcon distributor in 1980; in 2011 the company added the Sokkia product line.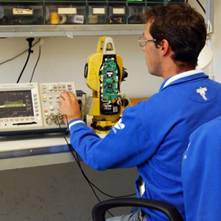 With about 70 employees, including 20 engineers and more than 50 sales representatives in Italy, GEOTOP owns more than 200 GNSS reference stations in Italy, creating NetGEO, one of Europe's largest GNSS networks.
GEOTOP also has five Service Centers strategically located throughout Italy in the Tuscany, Emilia Romagna, Lombardia regions – and a Monitoring Center in Pompeii – Campania. GEOTOP has a software company, GeoPro, that develops software for GNSS, GIS, monitoring and total station applications, to offer additional solutions to the existing Topcon software.
Ivan Di Federico, president and CEO of GEOTOP Italy, said, "GEOTOP's track record in the sale, distribution and service and support of Topcon and Sokkia instruments is exemplary. The company has a history of providing quality service and support for customers and the long-term relationship that Topcon has had with GEOTOP has made for a great partnership."
Rene Worms, general manager for Topcon Europe, said, GEOTOP "has an incredible staff of professionals well known in the marketplace and with them joining the Topcon family, it strengthens our entire organization."
Sergio Albertazzi, managing director with GEOTOP, said, "Over the past 30 years we have had a great working relationship with Topcon. This partnership is the next step to further solidify our joint commitment to providing quality instruments, software and service to our customers and prospective customers.
"This is a win-win-win situation all the way around and we look forward to the next phase of our working relationship with Topcon."
In the past several years, Topcon has made a considerable investment in Europe, especially in Italy, Di Federico said. "We have almost 150 employees in four companies in Italy. In addition to GEOTOP, Topcon Tierra has about 30 employees, Topcon Infomobility has about 30 employees and GeoPro has about 10 employees.
"The addition of GEOTOP not only adds to Topcon's presence in Italy," he said, "but emphasizes the synergistic opportunities we have with all companies working closely together to provide products and services to customers and potential customers."